'Many Cornish people in poverty' - Bishop of Truro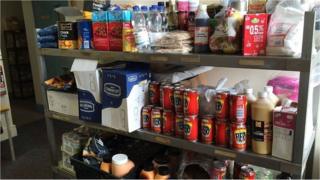 The bishop of Truro says many people in Cornwall are living in "real poverty" and have very little food.
The Right Reverend Tim Thornton was speaking at the opening of a new Devon and Cornwall Food Association (DCFA) centre in Lostwithiel.
The DCFA distributes surplus and end-of-line stock to the needy via charities.
Research suggests that British families throw away an average of the equivalent of six meals per week in food waste.
'Shock' at waste
Publicly-funded recycling group the Waste and Resources Action Programme (Wrap) said last year that this would amount to £60 a month for a household.
Bishop Thornton, who is co-chair of a Parliamentary inquiry into food poverty, said: "There are real life individuals living in Cornwall with very little in their cupboards and very little wherewithal to know what they are going to do.
"People are living in real poverty."
He said he was "shocked" by the amount of food thrown away in the UK.
"But what's really sad is that we live in a country where the systems are such that waste is built in and people go out of their way to make sure these things don't end up with other people that could use them," he said.