Top poker player Phil Ivey loses £7.7m court battle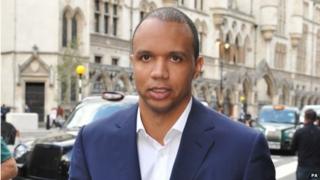 Professional poker player Phil Ivey has lost a High Court battle against the owners of a London casino over his £7.7m winnings.
Crockfords casino in Mayfair accused Phil Ivey of cheating by using the "edge-sorting technique" in card game punto banco.
Edge-sorting involves studying cards for imperfections.
Mr Ivey took legal action against the casino for the £7.7m, and argued that the technique was legitimate.
The 38-year-old American played punto banco - a form of baccarat - over two days in August 2012.
'Exploit'
He was told his winnings would be wired to him, but they never arrived. His stake of £1m was returned.
Through his spokesman, Mr Ivey said he was "obviously disappointed" with the decision, but added that it was not in his "nature to cheat".
"I am pleased that the judge acknowledged in court that I was a truthful witness. I believe that what we did was a legitimate strategy and we did nothing more than exploit Crockfords' failures to take proper steps to protect themselves against a player of my ability.
"Clearly today the judge did not agree," he said.
A spokesman for the casino said: "Crockfords is pleased with the judgment of the High Court today supporting its defence of a claim by Mr Ivey.
"It is our policy not to discuss our clients' affairs in public and we very much regret that proceedings were brought against us."
Genting Casinos UK, which owns more than 40 casinos in the UK including Crockfords, said the technique of "edge-sorting" was not a legitimate strategy and therefore the casino had no liability to him.
Its lawyers told Mr Justice Mitting that Mr Ivey's conduct defeated the essential premise of the game, and therefore there was no "gaming contract".
Lawyers for Mr Ivey were refused permission to appeal, although they can renew their application to the Court of Appeal directly.