Hampshire Esso fuel pipeline theft suspects released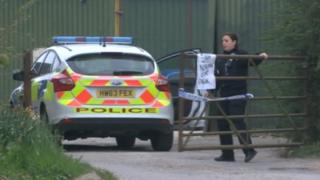 Two men arrested over the theft of 30,000 litres of diesel from an underground fuel pipeline have been released without charge.
The stolen fuel was tapped from Esso's Midline Pipeline and diverted into tanks at an industrial storage unit at East Wellow, Hampshire, in April.
Two Salisbury men, 32 and 34, were held on suspicion of conspiracy to steal fuel but will face no further action.
The pipeline was also targeted in Wiltshire earlier the same month.
Esso said that breach in Manton led to a leak of 150,000 litres of fuel following an attempt to tap the buried pipeline, which carries fuel from Southampton to Birmingham.
Hampshire police said the breaches were part of a much wider ongoing investigation involving West Mercia, Gloucestershire and Wiltshire police forces as well as fuel companies.
Esso said the incidents had led it to "strengthen" its security and monitoring procedures.