Wasps' move to Coventry's Ricoh: Why are sports clubs on the move?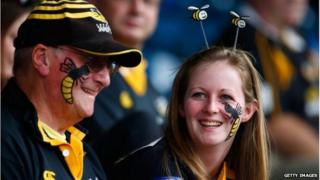 The city of Coventry has seen several sports comings and goings. First, its football team moved out - then returned. Now, as Wasps announce a move to the Ricoh Arena, it has acquired a Premiership rugby union team. But as professional teams move from place to place, are fans being left behind?
Each Saturday during the season, Ken Wyatt puts on his Wasps top and heads across town to watch the rugby union team he has supported for almost 20 years.
As Mr Wyatt lives in High Wycombe, the trip is an easy one - Adams Park, the home of Wasps since 2002 - is just a short bus ride away.
But from December, as the Premiership team seeks to find a permanent home with the facilities it says it needs to compete in Europe, Mr Wyatt's journey will become significantly longer.
For Wasps are moving 80 miles (128 km) up the road to Coventry's Ricoh Arena - leaving a significant number of their 8,000 regular south-east fans behind.
"Most people are pretty angry because it could be up to a six-hour round trip," said Mr Wyatt, who says he will probably not be able to attend home matches any more.
"I can see I'm going to have a bit more time on a Saturday afternoon," he added. "I imagine most will forgo Wasps entirely."
Wasps say they appreciate the move will be "disruptive" for supporters and will do everything it can "to help our supporters join us at our new home".
"Coventry is a hotbed of rugby and so the prospect of coming here and embedding ourselves in the local community is incredibly attractive," said Nick Eastwood, the club's chief executive.
But there are also financial attractions - with Land Rover confirmed as Wasps' new sponsor.
So are professional sport teams all that concerned about losing their traditional fanbase?
The established clubs on the Ricoh's doorstep - Leicester Tigers, Northampton Saints and Worcester Warriors - have reacted bullishly to the arrival of the new southern team on the Midlands block.
"It won't affect either ourselves or Leicester," said Tony Hewitt, the Saints' vice chairman.
"We are too well-established. I'm sure Wasps have looked at our success and said, 'We want a bit of that' - but they have a massive task ahead of them."
Mr Hewitt points to other clubs - notably London Irish and London Welsh - which have moved into football stadiums and says attendances - and atmosphere - can be lacking.
"When we played London Irish at the Madejski Stadium, in Reading, on Saturday, you had a crowd of about 7,000 in a stadium that holds 25,000.
"The Ricoh Arena can hold 32,000 and, at the moment, Wasps can't fill Adams Park, which holds 10,000. It does not make for the best of atmospheres."
All three clubs draw on fans from the Warwickshire area - close to Wasps' new home - but feel they are unlikely to see an impact.
Nor do they feel it is likely to herald a change in clubs' links with their traditional fanbase.
"Rugby union has always been opposed to a franchise system. It's too tribal for that," said a Tigers representative.
The rugby team most likely to see the impact of Wasps' arrival is Coventry - a big name in the country in the 1960s and '70s.
President Peter Rossborough said the club had been, "completely omitted from the talks that were going on".
"It could hurt us," he said.
"We could lose significant parts of our crowd. Our fanbase is very loyal but younger converts to rugby may be attracted by the glamour and excitement of Premiership rugby. Future sponsors could be swayed as well."
The movement of sports teams is hardly new - Coventry itself has experienced some seismic sporting shifts in recent years, most notably when its football team left the Ricoh for Northampton for a season, amid considerable protests from fans.
Famously, Wimbledon - for many years a top-flight football club - were uprooted from London to Milton Keynes - as MK Dons.
Chairman Pete Winkelman now describes the move as, "a bad decision" and said he is "not proud" of how the club came into being.
"I would describe MK Dons as a qualified success," said Professor Simon Chadwick, who studies sport and business at Coventry University.
"They are now an established club and I understand they're getting crowds of around 8,000. But I would question how much further they have taken the club since the days when they were Wimbledon."
In the U.S. it is common for teams to move from city to city, as each team's franchise is adopted by a different place.
"British sport is culturally embedded," said Professor Chadwick. "People identify and engage with clubs that are on their doorstep and that forms part of their identity."
However, the U.S. model, he says, is very different - and could become increasingly widespread.
"In all the big sports, like baseball, basketball and American football, the location of the team is based on a strategic commercial decision," he said.
"If a franchise plays in a city and it doesn't make money, that city loses the franchise."
He can easily imagine a situation where this could become commonplace in British sport.
"Premier League football clubs are talking about playing more matches abroad. Manchester City owns clubs in New York, Melbourne and Japan.
"Many Premier League clubs are all too aware they have more fans in China than they do here. In terms of building revenues, it makes more sense to play games in China and Hong Kong than in Newcastle or Sunderland.
"What Wasps has done is very 'now' - clubs are increasingly franchising out their identity. I believe we are on the cusp of major change."
The losers in all of this could be the traditional fan - the person who has supported a club all their life, through thick and thin, because their parents and grandparents did.
Already, fans in different sports have voiced their disapproval about the proposed name changes of teams - from Hull's football club to Warwickshire Cricket Club's T20 team - and grounds, such as Newcastle's St James' Park's short-lived spell as the Sports Direct Arena.
Smaller clubs, says Professor Chadwick, could also find their futures threatened by the power and sway of the big clubs.
But, in the foundation of clubs like AFC Wimbledon (formed in the wake of Wimbledon's move) and FC United (set up in protest at the Glazer family's ownership of Manchester United), Professor Chadwick says there is hope.
"I think there will be a period of turbulence," he said. "But the market for sport is mature enough to sustain smaller organisation. As with restaurants, there will always be people who prefer not to eat at McDonalds."