Devon care home probe: Seven charged over alleged abuse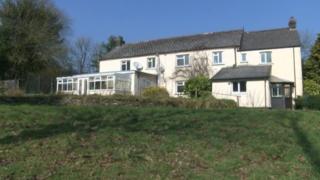 Seven people have been charged over the alleged ill-treatment of residents at former care homes in Devon, police have said.
Devon and Cornwall Police said abuse at the Veilstone, Gatooma and Teignmead homes was alleged to have occurred between January 2010 and December 2011.
The four men and three women, aged 25 to 68, are charged with conspiracy to falsely imprison and conspiracy to ill-treat vulnerable adults.
They have all been released on bail.
They are due to appear before Exeter magistrates on 28 October, police said.
'Effectively safeguarded'
The homes in north and south Devon, run by the Atlas Project Team Ltd and which cared for adults with learning disabilities, were closed in 2012 following inspections by the Care Quality Commission (CQC).
In 2011, a whistleblower raised concerns about the ill-treatment of vulnerable residents at the Vielstone home near Bideford.
The CQC carried out a snap inspection and found adults with learning disabilities were being detained overnight in a "quiet room" that was unheated and contained only an inflatable mattress, an armchair and a security camera.
Atlas was given a formal warning and residents were moved out.
The CQC also found serious concerns at three other Atlas sites - Teignmead in Bishopsteignton, and Gatooma and Santosa in Holsworthy.
Dignity 'not respected'
It found staff at the homes were poorly trained and unaware what constituted abuse, and residents were not given a say in their care.
The commission also ruled residents' dignity and privacy were not respected.
The arrests and charges have come after an investigation codenamed Operation Baddeck, involving police, councils, and the NHS.
Devon and Cornwall Police said a "multi-agency team was working to support the victims and their families to ensure they received the appropriate levels of support leading up to and throughout any future judicial proceedings."
The force added: "The priority in all of these cases is to ensure that those involved are effectively safeguarded."
Atlas has since folded.
The seven people charged are:
Victoria Cobbett, 25, from Bideford
Paul Hewitt, 68, from Teignmouth
Russell Hewitt, 40, from Teignmouth
Jolyon Marshall, 39, from South Molton
Rachel Marshall (nee Carter), 29, from South Molton
Timothy Stevens, 43, from Bideford
Emma Turner, 27, from Teignmouth