Sean Rigg custody death: Police perjury case dropped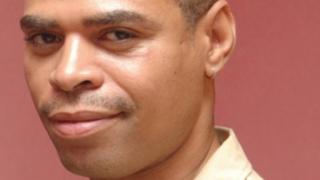 Prosecutors have been attacked over a decision not to bring charges against two police officers in relation to the death of a prisoner.
Musician Sean Rigg, 40, was arrested taken to Brixton police station, south London, in August 2008 on suspicion of attacking a man.
He suffered a cardiac arrest and died at the station.
Mr Rigg's sister said the Crown Prosecution Service (CPS) decision would cause the family further anguish.
The CPS said the officers would not face charges of perjury, perverting the course of justice or collusion.
Marcia Rigg-Samuel said: "I don't know how they could possibly have come to this decision, but I will keep on fighting.
"My family is surprised and bitterly disappointed by today's decision by the CPS.
"We categorically do not accept this decision, which only serves as further upset and anguish."
The CPS was asked to make charging decisions over those three allegations only.
'Unsuitable' force
The police watchdog, the Independent Police Complaints Commission (IPCC), is still investigating five officers over allegations of potential criminal misconduct in a public office.
An inquest jury found police used "unsuitable" force on Mr Rigg, for allegedly attacking officers and passers-by.
Mr Rigg had been diagnosed with schizophrenia as a 20-year-old.
The CPS said it would take no further action after considering allegations against a custody sergeant and a police constable concerning statements made about Mr Rigg, that were later shown to be incorrect.
Malcolm McHaffie, CPS deputy head of special crime, said: "Having considered the material provided to us, in great detail, we have concluded that there is insufficient evidence to prosecute for any criminal offence.
"We appreciate that this decision may be disappointing to the family of Mr Rigg, but we have written to them to explain our position in detail and have offered to meet with them if they so wish."
Correction: The story originally stated that potential murder or manslaughter charges continue to be investigated by the Independent Police Complaints Commission (IPCC), based on a statement from the CPS. The story has since been amended.