Alice Gross death: Body found is suspect Arnis Zalkalns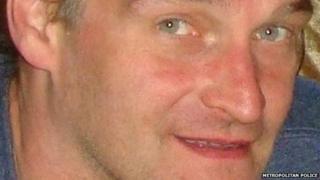 Police say a body found in a west London park is that of Arnis Zalkalns - the prime suspect in the murder of teenager Alice Gross.
Mr Zalkalns, a builder from Latvia, was last seen at his home in Ealing six days after 14-year-old Alice vanished.
The corpse of Mr Zalkalns was discovered in an area of dense woodland in Boston Manor Park, west London.
It was found on Saturday afternoon, about a 20 minute walk away from where Alice's body was found last Tuesday.
Following a post mortem examination, police said the cause of Mr Zalkalns' death was "consistent with hanging", adding there was "no evidence of any third party involvement".
Body concealed
Alice, from Hanwell in west London, disappeared on 28 August.
Her body was found in the River Brent on 30 September and police said significant efforts had been made to conceal it.
The post-mortem examination on her body proved inconclusive and more tests are to be carried out.
Mr Zalkalns, 41, was filmed on CCTV cycling along the same route just minutes behind the schoolgirl on the day she disappeared.
He had served seven years in prison in his native country for bludgeoning and stabbing his wife Rudite to death before moving to the UK in 2007.
Following the discovery of Alice's body, her parents Rosalind Hodgkiss and Jose Gross said: "Why anyone would want to hurt her is something that we are struggling to come to terms with.
"Alice was a loving and much loved daughter and sister, a quirky live spark of a girl, beautiful inside and out.
"She was a funny companion, a loyal friend, both passionate and compassionate, and so talented with a bright future ahead of her. She brought so much joy to our family and those who knew her."
The hunt for Alice, from Hanwell, west London, was the largest Met Police search operation since the 7/7 terrorist bombings in 2005, involving 600 officers from eight forces.
Officers searched 25 sq km (10 sq miles) of open land and 5.5km (3 miles) of canals and rivers.