Thomas Duffy death: Failure to diagnose heart condition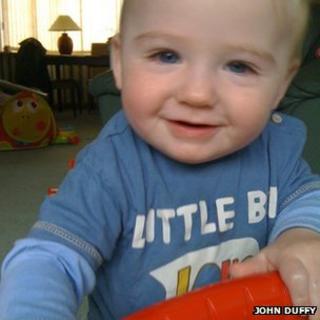 A coroner has ruled a Worcestershire hospital failed to diagnose that a baby boy who died in their care had a heart condition.
Thomas Duffy died at the Alexandra Hospital in Redditch in March 2011.
His parents took their case to the High Court after the original inquest verdict ruled 14-month-old Thomas died of natural causes.
The hospital said: "We deeply regret that, in this case, we did get things wrong."
Thomas had a history of recurrent chest infections, and his condition had deteriorated when he was taken into hospital on 19 March 2011.
Unsuccessful attempts were made to treat and resuscitate him and he was pronounced dead later that morning.
'Justice has been done'
In a narrative verdict delivered on Thursday the coroner said Thomas was "diagnosed variously as having a viral induced wheeze and septicaemia".
Stourport Coroners' Court heard he actually died from an "acute failure" in his heart.
Father John Duffy, 39, said: "We are satisfied we have got the answers we have been looking for and justice has been done for our son, and that other people will benefit from what's been learned."
He said he believes the Alexandra Hospital have put in place measures that will "stop this happening again".
Penny Venables, Chief Executive of the Worcester Acute Hospitals NHS Trust said: "We have offered to meet with the family to discuss the changes we have now put in place to prevent anything similar happening again in the future."
Mr Duffy and his wife Joanne, who live in Solihull, now have a two-and-a-half year old son and are expecting their third child next month.