Nick Clegg backs shale gas fracking in East Midlands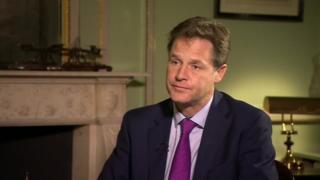 The Liberal Democrat leader Nick Clegg has given strong backing to use fracking to drill for shale gas in the East Midlands.
"I don't think we should turn our nose up at a whole new industry or technology," he told me.
As the Liberal Democrats gather for their annual conference in Glasgow, his support for fracking is significant nationally and for a region like the East Midlands.
The British firm IGas Energy estimates that shale gas from Nottinghamshire and Lincolnshire alone could produce 10% of UK gas needs within 10 years.
But the fracking process is controversial and environmentalists, including some in his own party, will be unhappy at his enthusiastic endorsement .
"Fracking has a role," he added.
Without embracing such industrial innovation, he says "we would never have had railways or mobile phone networks".
"New infrastructure happens from time to time, but it needs to be done carefully and not in a cavalier 'slap-dash' manner," he said.
"That's why I'm proud we've got the tightest regulation of anywhere in the world to ensure fracking - wherever it takes place - is in an environmentally sustainable way."
The Deputy Prime Minister was speaking to me at the end of a fortnight in which Labour and Conservative conferences have wrestled with the issue of the "English Question" and what powers should be devolved from Whitehall to the English regions.
He is proposing giving communities and cities the option of having devolved powers through a local referendum.
"My idea is a more 'bottom-up' process to enshrine in law a new right for local areas to demand to take more powers from the centre.
"Whether it's transport, skills, or part of the welfare state... it's those sort of things that are better done locally rather than by Whitehall.
"There's an opportunity now after the Scottish referendum and to make sure the clammy hands of Whitehall are released and powers more dispersed across regions like the East Midlands."
On the regional economy, the East Midlands has seen one of the biggest falls of any region in the levels of unemployment. Yet according to the Midlands TUC, the region has also had the biggest reduction in wages.
So I asked the Deputy PM, can you have one without the other?
"You must ensure people on lower incomes keep more of the money they earn," he told me.
"I said at the last general election that I didn't want to see people pay any income tax until they earned £10,000 - and yet we're now up to a threshold of £10,500.
"That's hundreds of pounds extra in people's pockets in the East Midlands on lower and middle incomes."
So to next year's General Election.
The Lib Dem faithful in the East Midlands have had a bruising year. A poor showing in the Newark parliamentary by-election, the loss of its region's MEP, Bill Newton Dunn and the embarrassment of trailing way behind fringe candidate "Buspass Elvis" in a Nottingham council by-election.
"I'm very sad that Bill didn't get in. I got elected as the MEP for the East Midlands back in 1999, the first Liberal parliamentarian in the East Midlands since 1936," Mr Clegg said.
"But we've got to get back into the saddle. The Labour Party's going off to the left and the Conservatives want the working-age poor to pay for everything.
"A party like us - with a head and a heart - is devoted to ensuring everyone in the East Midlands has an opportunity to get ahead."
His party's conference will give Nick Clegg a national platform to reach a wider electorate. The issue is whether that electorate wants to listen to his message anymore.