Sacked Queen Elizabeth Hospital surgeon's work 'high quality'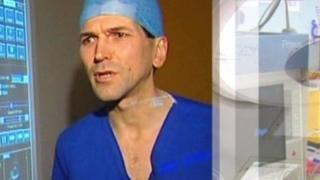 A hospital that has taken on a sacked heart surgeon has defended him - describing his work as "high quality".
Ian Wilson's operating processes were said at an inquest last week to have contributed to the deaths of three patients at the Queen Elizabeth Hospital, Birmingham.
The surgeon was dismissed for data irregularities.
But his new employer, New Cross Hospital, Wolverhampton, said it had carefully observed his practice.
Alan Tringham, 78, from Hereford, Peter Brookes, 72, from Halesowen and Alan Lucas, 77, from Solihull, all died after being operated on by Mr Wilson.
'Significant concerns'
Their inquests last week heard the surgeon over-operated and took too long in all three cases.
But New Cross Hospital chief executive David Loughton, who has employed Mr Wilson as a locum consultant, said his work was not only sound but of a high quality.
He said patients should have no concerns about data, which can stop warning levels being triggered if inaccurate, because it is validated by the hospital's audit department.
University Hospitals Birmingham NHS Foundation Trust (UHB) has also submitted concerns about Mr Wilson's data regarding hypertension and unstable angina to the General Medical Council.
Mr Loughton said: "We understand that Mr Wilson, and many specialists in the area, have significant concerns about the validity of the exercise undertaken by UHB."
A UHB spokesperson said it was "surprised" Mr Loughton had commented on the appointment of Mr Wilson, given that the trust had not sought a reference for the heart surgeon.