Thailand murders: David Miller's family thoughts for Hannah Witheridge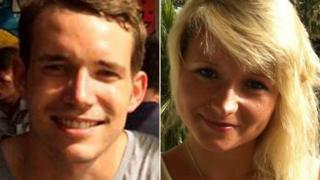 The family of a man murdered in Thailand said they have been "overwhelmed" by support.
David Miller, 24, from Jersey, was found dead with Hannah Witheridge, 23, from Great Yarmouth, Norfolk, on the island of Koh Tao on 15 September.
In a statement, Mr Miller's relatives said their "hearts go out to the Witheridge family".
An inquest opened in Norwich earlier heard Ms Witheridge died on the beach from "severe head injuries".
The brief hearing was told the student from the University of Essex had been identified using DNA samples taken from her parents and Thai authorities had requested the pathologist's report.
A full inquest will take place on 6 January.
Speaking ahead of Mr Miller's funeral on Friday, his family asked for privacy on the day of the memorial service.
They hope the service at Holy Trinity Church will be "attended simply by Dave's many friends and his family".
The statement, from Sue, Ian and Michael Miller, said: "Our hearts go out to the Witheridge family who are also coming to terms with the sudden trauma of the equally senseless ending of their Hannah's life.
"Our thoughts are also with the Ware family and any other innocents that have been hurt by harassment and wrongful accusation.
"We have been overwhelmed by the breadth and depth of support provided to us by so many here in Jersey and also by people far away.
"We were also particularly touched by the vigil and prayers held by good people on Koh Tao."
They spoke of being "deeply traumatised" by "some wild and irresponsible speculation of the circumstances surrounding" Mr Miller's and would not comment on the investigation except to appeal for anyone with information to come forward.
"We urge anyone who can help these investigations to please assist the Royal Thai Police in solving these murders and bringing the culprits to justice.
"We are confident that these people will be caught now or later."
They said: "Now we would like to concentrate all our thoughts on our lovely David. Taken from us before his time and before he could blossom to his full potential.
"He was our David. He was very special. He brightened up the world and we miss him terribly."