Eleven 'Right to Build' areas chosen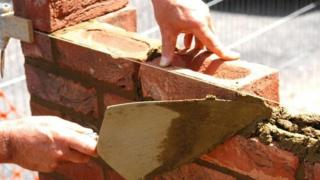 The first councils to offer help to people wanting to build their own home through the government's 'Right to Build' scheme have been announced.
The 11 authorities will share £550,000 of funding to invest in projects that include creating 1,000 self-build plots and 2,000 custom-build homes.
Tory Housing Minister Brandon Lewis said it would "get Britain building".
But Labour said only it had the plans needed to build at least 200,000 homes by 2020.
The scheme announced in the 2014 Budget allows people to buy council land on which to build their own houses.
'First wave'
Mr Lewis said: "We're determined to help anyone who aspires to own their own home - whether that's buying on the open market through schemes like our Help to Buy, or to build.
"This is one of a range of measures we're taking to help aspiring homeowners, but also to get Britain building - and thanks to our efforts, housebuilding levels are at their highest since 2007 and rising."
The 11 local authorities are: Cherwell, South Cambridgeshire, Teignbridge, Shropshire, Oldham, West Lindsey, Pendle, Sheffield, South Norfolk, Stoke-on-Trent and the Exmoor and Dartmoor National Park Authorities.
The money will fund the provision of "suitable and serviced" plots of land for sale at market value to prospective self and custom-builders.
Among the projects are plans for 2,000 custom-build homes in Cherwell, which will receive £90,000, and the creation of 800 self-build sites in Sheffield, which will receive £100,000.
A government spokesman said: "This first wave of areas will form part of a consultation on Right to Build. It will be decided whether the changes should be extended across the country later this year."
'Acute housing crisis'
Jackson Moulding, former vice-chairman of the National Custom and Self-Build Association, said the announcement was "fantastic news".
"There's a big appetite - it's just a question of how that is addressed - but I think with local authorities getting on board that is the first step to making people aware that self-build and custom-build is a viable model."
Steve Turner, from the Home Builders Federation said: "We've got an acute housing crisis that's going to need numerous solutions.
"Whilst it's not going to put a huge dent in the overall supply of houses it's positive nonetheless."
Labour's Shadow Housing Minister Emma Reynolds, said housebuilding was at its lowest peacetime level since the 1920s under David Cameron's government.
"Only Labour will make the fundamental changes to the market which are urgently needed by getting at least 200,000 homes built a year by 2020 and doubling the number of first-time buyers in the next 10 years," she said.