Nigel Farage speaks to the UKIP party conference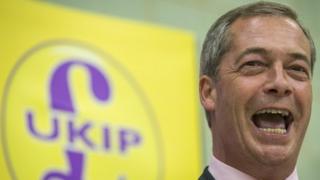 It's a significant day for MPs as Parliament has been recalled to debate whether the RAF should join air strikes against Islamic State in Iraq.
Despite the tense debate in London, about half of the political journalists normally based at Westminster have made the journey to Doncaster for Nigel Farage's speech to conference.
I think the amount of media interest shows just how seriously UKIP is being taken following the party's strong performance in May's European and local elections.
The decision to hold the conference in Doncaster - in Ed Miliband's backyard (he represents the constituency of Doncaster North) - is a clear signal that UKIP is not just trying to appeal to Conservative voters in places like South Thanet but also to those in traditional Labour heartlands.
'Tanks on Labour's lawns'
As Mr Farage arrived on stage at UKIP's conference he received a standing ovation. That's not unusual for party leaders but in this case the hall - a large venue - was completely full - every seat taken, and dozens of people standing.
He criticised the three main party leaders, accusing them of making false promises to voters during the Scottish referendum campaign.
But most of his fire was reserved not for the Tories, but for Labour.
He made it clear that UKIP were putting their tanks on Labour's lawns.
Mr Farage told delegates that it was "not just to the Conservative Party, as the papers would have you believe, we pose a threat to the entire British political class and I'll drink to that".
He said Labour had lied over the NHS saying UKIP want to privatise it.
The UKIP leader and South East MEP turned the fire back on Labour saying: "So let's fight the Labour Party back on the National Health Service, they've done more than anybody to actually bring private money into the health service and it's not UKIP that will do it."
He said Labour was only just now waking up to the threat from UKIP. It's a change of tack - until now UKIP has set its sights firmly on winning disaffected voters in Tory seats, particularly in the South East.
'Borderless Britain'
But UKIP realises there are as many disaffected Labour voters - particularly in working class areas of the North who are looking for a different kind of politics too.
He said the issue the issue which will dominate the next election is the open door immigration. He said we are "borderless Britain".
There was a huge cheer when Mr Farage told the conference: "We must take back control of our border."
It was a very confident speech - delivered without notes but with a joke at Ed Miliband's expense when he said "on policy, ah the deficit, I nearly forgot."
Nigel Farage took a swipe at David Cameron for recalling Parliament on the day of his speech but he made sure he got his message out - that UKIP is broadening its appeal and can win votes from both the left and right and north and south of the country.