Frimley Park Hospital gets first outstanding rating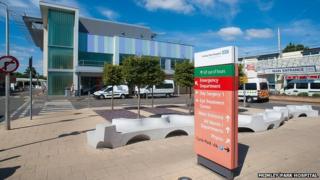 Health inspectors have awarded the first "outstanding" rating for a hospital in England since Ofsted-style grading was introduced in the wake of the Stafford Hospital scandal.
Frimley Park Hospital NHS Foundation Trust in Surrey is the first to get the Care Quality Commission (CQC) top mark.
Its A&E, surgery, critical care wards and end of life care were praised.
The new system for inspections was introduced by the government last year after the CQC agreed to an overhaul.
The hospital was also praised for its medical care.
Outstanding is the top rating of four. The others are good, requires improvement and inadequate.
Monitoring failings
Andrew Morris, the hospital's chief executive, said: "The outstanding rating is a massive endorsement of the hard work and dedication of our excellent staff who every day are committed to providing the best possible service to patients in their care.
"I am particularly pleased that the report highlights the positive, open and transparent culture we have here at Frimley as well as examples of what has been described as 'exemplary care' throughout many wards and services."
Mid Staffordshire NHS Trust was criticised in February 2013 in a public inquiry headed by Robert Francis QC for causing the "suffering of hundreds of people" under its care between 2005 and 2008.
The inquiry criticised a cost-cutting and target-chasing culture that had developed at the trust and identified failings in the way hospitals were previously monitored.
The new inspection teams are larger and more specialised than before and focus on the "whole patient experience".
Takeover approved
Frimley Park is in the process of taking over Heatherwood and Wexham Park Hospitals NHS Foundation Trust in neighbouring Berkshire.
Heatherwood and Wexham Park was rated as inadequate by the CQC in May and put into special measures by the health services regulator Monitor.
The merger was to have taken effect on 1 August but was delayed because of financial questions about the deal remained.
Monitor has now granted approval for the takeover, saying Heatherwood and Wexham Park will benefit from the strong leadership of Frimley Park.
The enlarged organisation, to be called Frimley Health NHS Foundation Trust, will be officially launched on Wednesday.