National prostitution and trafficking ring 'smashed' by police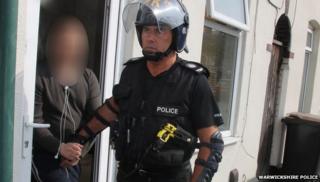 A national prostitution ring in which women are believed to have been trafficked to the UK and forced to work in brothels has been smashed, police have said.
Fifteen people were arrested on suspicion of conspiracy to manage and control brothels after raids on homes in the Midlands and south of England on Tuesday and Thursday.
All have been released on police bail.
Det Ch Insp Ally Wright said it was a "sophisticated and organised" set-up.
The Warwickshire Police officer said the ring was discovered after a property in Nuneaton was investigated.
"Females were, for want of a better way of phrasing it, being rotated on a weekly basis.
"So this raised the prospect that human trafficking or sexual exploitation were the root cause and this led us to other addresses through the country," he said.
Two homes in Nottingham were raided, two in Warwickshire, and one each in Reading, Slough, Wolverhampton, Torquay and Finchley, in London.
The women suspected of being made to work as prostitutes are believed to be Chinese and Malaysian, a Warwickshire Police spokeswoman said.
'Threats and violence'
The British Red Cross was involved in advising on the raids and remains on standby to provide support, temporary housing and aid to victims.
A spokeswoman said no such assistance had been requested as yet.
Det Ch Insp Wright said the perpetrators abused vulnerable women "to make substantial profits".
"They [the victims] come to this country and go through a process of indoctrination, subject to coercion, some intimidation, some threats and violence.
"By the time they are put out to work, effectively under the control of organised criminals, they are so fearful it's difficult for them to come forward and present themselves as being victims," he said.
Phones, cash and banking details recovered by police during the raids are now being examined as part of the investigation.