Ex-British Airways pilot Bartle Frere 'had videos of naked boys'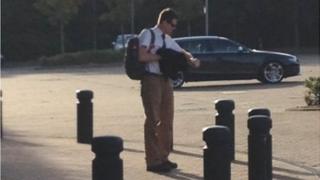 An ex-British Airways pilot had a video of a young boy showering that was in a computer folder so well encrypted police needed help from MI5 to crack it, a court heard.
Bartle Frere, 50, from Shipton Gorge, Dorset, is accused of 25 sex offences, including the abuse of boys in the UK and India. He denies all the charges.
Jurors at Bournemouth Crown Court were shown videos found in Mr Frere's home.
The six films featured naked Ukrainian boys, aged about 11 to 13, playing.
'Baths and cuddles'
The videos, which featured the boys in paddling pools and wrestling, had names such as Commando Christmas and Water Wiggles.
Another video was kept in a folder on Mr Frere's Mac, which Dorset Police's computer expert was unable to access, the court heard.
Simon Ray, defending, said the encryption software used was standard issue on Apple computers.
The court also heard how Mr Frere chatted to boys as young as 13 in India and would arrange to see them in hotels for "baths and cuddles" when his work took him there.
Mr Frere is also accused of sexually assaulting two boys in the UK.
The mother of one said she became "anxious" about her son doing odd jobs for the defendant when he came home with his clothes washed and dried by Mr Frere.
Arrested at Heathrow
She said she asked her teenage son if anything "weird" was going on, which he denied.
Mr Frere was arrested in November last year at Heathrow.
He is accused of five offences of arranging or facilitating the commission of a child sex offence, relating to boys in India.
He is also charged with five counts of indecent assault, one count of indecency with a child and two charges of serious sexual offences in relation to one of the boys from the UK.
With regard to the second UK boy, he is charged with one count of sexual activity with a child and one charge of attempting to record a person doing a private act.
The defendant also faces six charges of possessing indecent photographs of a child and four charges of making indecent photographs of a child.
The trial continues.