Ed Miliband's Labour Party conference speech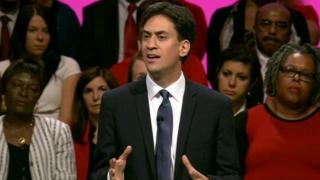 Hundreds of delegates queued the length of the conference centre in Manchester eagerly awaiting Ed Miliband's speech.
It was a keen audience - he got a standing ovation before he even spoke.
This was his last conference speech before next May's general election and his chance to set out why he should become the country's next prime minister.
He spoke for an hour and five minutes with no notes, with no autocue.
During that time he set out six national goals for the next decade.
They included:
Rewarding people for hard work - raising the national wage to halve the number of people on low pay
Tackling the cost of living crisis to make sure wages increased with economic growth
Creating a million jobs in green industries - helping to tackle global climate change
Ensuring companies who want government contracts will provide apprenticeships
Building more homes and making sure 400,000 first-time buyers get on the property ladder each year
Saving the NHS and using the proceeds of a mansion tax on homes above £2m and tax on tobacco firms to pay for it
'Southern discomfort'
Ed Miliband also addressed the issue of new devolved powers for England but didn't tackle the thorny issue of stopping Scottish MPs voting on English matters.
He joked at David Cameron's expense saying he hadn't lain awake at night worrying about the United Kingdom but the United Kingdom Independence Party, UKIP.
He said: "Pandering to them shows why he is not fit to lead a country as great as this."
The speech was received well in the conference hall - one lady told me "he gets it - he's the right man to be the next Prime Minister".
South East reaction
I also caught up with three South East Labour candidates.
Clair Hawkins, who is fighting the seat of Dover and Deal, told me she was heartened by the announcements about the increase in the number of health workers and the number of apprenticeships.
She said: "The same number as people going to university will be brilliant for our area."
The Sussex candidates also welcomed the announcements.
Chris Oxlade said: "Crawley is a key battleground for the next election and what we've heard today will help on the doorsteps - we heard about low pay, jobs, the NHS, that will all help in Crawley."
And Sarah Owen told me: "Where we've got places like Hastings, where we've got high levels of unemployment, the commitment for apprenticeships and investment in young people to get them into jobs, get them working - that's fantastic news for people living in the South East."
Mr Miliband will have to hope his message resonates well beyond the confines of the conference if he is to win back disaffected voters in counties like Kent and Sussex - where he doesn't currently have a single MP.
If he can't tackle his party's "southern discomfort" he faces a tough battle to become the next prime minister, whatever those in the hall think.