Peterborough solar farm: MP calls for plan to be halted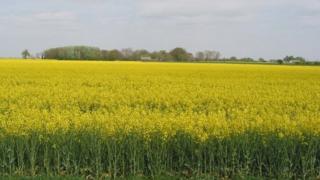 An MP has called on a council to abandon plans for a 900-acre (364 hectares) renewable energy park after the scheme was put on hold.
Peterborough City Council tabled plans for the farm on its land at Newborough and Thorney, Cambridgeshire, in 2012.
Now councillors have ruled a decision on the scheme should not be made until after the general election.
"This scheme is not going anywhere fast," Peterborough Conservative MP Stewart Jackson said.
"It is hugely unpopular and not financially viable. It's time the city council faced up to that and pulled the plug."
The council made the decision after hearing there was uncertainty over how much money the site could generate, with the government reducing subsidies.
The development would mean construction of 500,000 glass panels on land amounting in size to 700 football pitches.
The arable land is some of the most fertile in England.
John Harris, a tenant farmer who had worked the land for 30 years, said the delay in making the decision had created uncertainty.
The land has been used for generations to cultivate arable crops, such as sugar beet, potatoes and wheat.