Man missing after following dog into sea off Hendon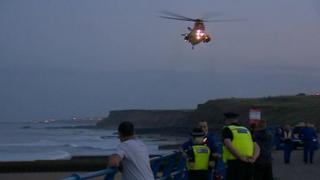 A man is missing after wading into the sea off Sunderland trying to rescue his dog, police have said.
A woman also went into the water after the pet but was recovered and taken to hospital.
Northumbria Police were contacted by the Coastguard shortly before 16:30 BST after reports of a couple in the sea off the promenade at Hendon.
RNLI lifeboats, a helicopter and a search and rescue team from Humber Coastguard are currently at the scene.
A spokesman for Northumbria Police said: "The search is on-going. A man entered the water with a woman to retrieve a dog.
"The woman has been recovered, but we are still searching for the man."