M1 junction 24 weekend bridge closure warning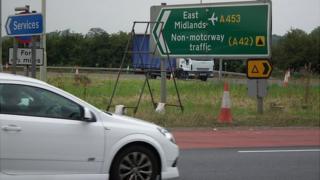 Motorists and holidaymakers were warned of delays as a bridge over the M1 was closed over the weekend.
The south bridge of junction 24 in Leicestershire is being strengthened so an extra lane can be added.
Traffic heading to East Midlands Airport and routes including the M1, the A453 southbound, the A6 and A50 had to use an 11-mile detour.
The bridge was closed from 20:00 BST on Sunday and re-opened at 06:00 on Monday.
Highways Agency project manager, Robin Jackson, said: "We chose this weekend to avoid school holidays and the Christmas rush, and also took nearby events into account.
"We had originally intended to close the bridge for two weekends but work has gone so well we think we can do it in one."
The agency also warned the A50 eastbound would be closed overnight between the Warren Farm roundabout at junction 24A and M1 junction 24 for a period of five weeks from 22 September.