West Sussex A&E threat 'lifted' in NHS contract row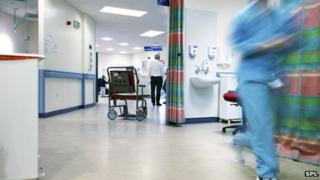 A threat to two A&E units has been lifted after NHS commissioners guaranteed future services, West Sussex County Council (WSCC) has said.
Western Sussex Hospitals raised fears its A&E units could be affected when it lost a bid for a £235m deal to provide on site musculoskeletal (MSK) care.
Councillor Dr James Walsh said there had been a real possibility the hospital could lose services.
But he said commissioners gave "cast-iron guarantees" they would remain.
Hospital chiefs had said the "knock-on effect" of losing the five-year MSK contract could impact doctors' rotas and wider emergency care.
Campaigners who protested against Coastal West Sussex clinical commissioning group's (CCG) decision also called it NHS privatisation.
Dr Walsh, a member of WSCC's health scrutiny committee, said keeping services at the Chichester and Worthing hospitals would keep money in the NHS.
'Caused public concern'
He also stressed the contract was not just with private firm Bupa but also with NHS provider Central Surrey Healthcare (CSH).
CCG chief officer Dr Katie Armstrong said she was disappointed with the response from hospital chiefs because she said it caused public concern over the future of A&E, when health organisations should be working together.
She also urged the trust to "become part of this exciting new service rather than fighting it".
The hospital trust has not yet replied to Dr Armstrong's criticisms.
But in a statement the trust said it had been commended by NHS England and believed its bid for MSK care was strong as patient outcomes had been improving and orthopaedic hospital stays were shorter.
A statement from Bupa CSH said the new contract was about providing an improved service and giving patients faster and simpler ways to access care.
Director Jo Pritchard said: "We value local expertise and knowledge and plan to involve patients, GPs, other clinical professionals and our partners in planning and delivering the new service to ensure the care pathway is truly patient-centred."