Mike Hancock MP resigns from Liberal Democrat Party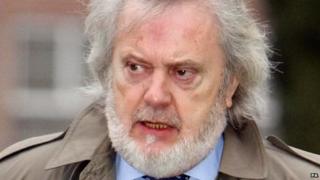 Liberal Democrat Mike Hancock has resigned from the party, officials have confirmed.
The Portsmouth South MP, who had faced allegations he sexually assaulted a constituent, handed in his resignation earlier in the week.
The news was only revealed in answers to questions posed by the Independent newspaper on Thursday.
In June, Lib Dem leader Nick Clegg told the BBC Mr Hancock had "no future" in the party and he would be expelled.
Mr Hancock had already had the whip removed and is expected to remain in the Commons as an independent.
'Inappropriate friendship'
A Lib Dem official said: "We have received a letter confirming his resignation.
"Obviously, there was due to be a disciplinary hearing imminently, so before that has happened he has resigned."
Mr Hancock was arrested in 2010 after a complaint was made about his behaviour towards a vulnerable constituent who had a history of mental health problems, but no charges were brought.
A civil action against Mr Hancock was dropped earlier this year with the complainant agreeing to a confidential settlement and the MP issuing an apology over an "inappropriate and unprofessional friendship".
He has been an MP in Portsmouth since 1984, but resigned from the cabinet of Portsmouth City Council in February and lost his Fratton seat on the council in May's local elections.