Archbishop Justin Welby's doubt in God 'welcomed' in Bristol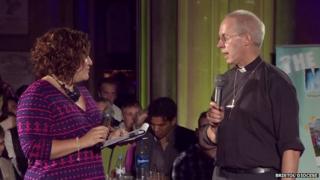 The Archbishop of Canterbury, Justin Welby, who admitted that he sometimes doubts the existence of God, has been praised by the Diocese of Bristol.
The leader of the Church of England was touring the West Country when he was interviewed ahead of Holy Eucharist at Bristol Cathedral.
When asked if he doubted the existence of God, he replied: "Yes. I do. In lots of different ways really."
A spokeswoman for the diocese said: "We welcome his frankness and openness."
In the BBC interview, the archbishop also revealed his frustration with the Almighty over perceived injustices.
'Not about feelings'
He revealed one time when this happened during an early morning run with his dog.
"The other day I was praying over something while I was running and I ended up saying to God, 'this is all very well, but isn't it about time you did something, if you're there,' which is not probably what the Archbishop of Canterbury should say," Dr Welby said.
He also referred to Psalms 88, 44 and 22 which reflected doubt over God's existence.
The archbishop said: "It's not about feelings, it's about the fact that God is faithful, and the extraordinary thing about being a Christian, is that God is faithful even when we're not.
"He loves us when we get into exactly the wrong place, he doesn't say 'sort yourself out, I'll come and find you', he comes alongside and says, 'let's go from here'.
"So there may be people here whose life is a complete havoc and they know they've really messed up and God doesn't say, 'once you're out of the mess we'll move on together', he says, 'I'm right here, let's start dealing with this together'."
The Diocese of Bristol spokeswoman said: "It's helpful for others thinking about where they stand on issues of faith.
"Also, his honesty about sometimes having doubt was very reassuring to people, whatever their faith, that even the archbishop has doubts.
"It's really useful in providing a platform for people to have conversations about faith and their relationship with God."
The archbishop's tour of the Diocese of Bristol finished on Sunday.