Lancasters to fly over 'Dambusters' Derwent Dam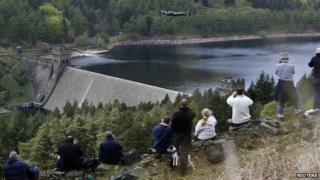 The last two airworthy Lancaster bombers in the world are to fly over Derwent Dam, echoing the famous Dambusters raid practised there.
One of the Lancasters is normally based in Canada, but has been reunited with her Lincolnshire sister for a series of events in the UK.
They will pass over the dam, in Derbyshire, on their way back to RAF Coningsby from Southport Air Show.
The flypast, weather permitting, will be at about 16:45 BST on Sunday.
One Lancaster flew over the reservoir last year as part of a ceremony to mark the 70th anniversary of the World War Two raid.
Retired Sqn Ldr Stuart Reid, who previously flew the RAF's Battle of Britain Memorial Flight (BBMF) Lancaster, said it will be an "incredible" sight.
"The attack is so well known, it's one of the most famous raids in RAF history," he said.
"The Dambusters is synonymous with the Lancaster, the Lancaster is synonymous with the Dambusters; the two go hand in hand," he said.
Of the 133 crew members that set off on the raid on 16 May 1943, 29 were Canadian.
Sqn Ldr Reid said: "It's extremely significant in so far as it brings together the two Commonwealth nations, Britain and Canada, re-enacting what were the training sorties for these crews, against one of the targets that the crews used."
A Hurricane and Spitfire will fly with the Lancasters.
Sqn Ldr Duncan Mason, the officer commanding BBMF, said: "To carry out a flypast over the Derwent Dam will be a fitting finale before the Canadians make their long trip home next week."
Severn Trent said the best place to view the aircraft will be up on the moor alongside the reservoir, so visitors can see right down the valley.
Visitors have been advised to get shuttle buses there or share cars, as there will be limited parking.