County Durham road salt storage barns built for £1.25m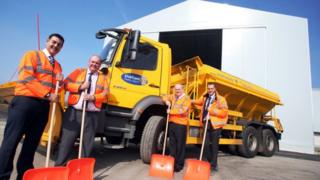 Two storage barns for road salt, costing £1.25m, have been built in County Durham.
They will store up to 12,500 tonnes of salt, Durham County Council said.
The need for strong retaining walls, sections of solid concrete and special drainage to avoid polluting water courses explained the high cost, a council spokeswoman said.
Cabinet member Brian Stephens said the barns would mean the council could keep major roads treated.
"These new facilities will help us deal with any issues that may arise," he said.
The barn in Peterlee replaces the former Wellfield depot, which was beyond repair, and cost £750,000. The facility in Wolsingham was £500,000.