Bantham beach estate sells for more than £11m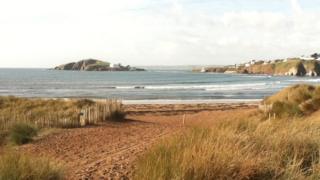 A 750-acre (303 hectare) seaside estate at Bantham in Devon has been sold, the purchaser Nicholas Johnston and the estate agents have confirmed.
The sale exceeded the asking price of £11m, said agents Strutt and Parker.
Bantham, which includes the beach, estuary and about 20 cottages, had been in the same family for about 100 years.
Mr Johnston, who owns the Great Tew Estate in Oxfordshire, told BBC News he would not be making any major changes to the estate.
Those were the wishes of the former owners, the Evans family.
'Magical spot'
"We have a track record of preserving and maintaining a small part of the world in Oxfordshire," he said.
"I have not gone in with a sheet of new ideas. The estate has been maintained in a beautiful form and I am sure you will fundamentally see more of the same from us.
"You can only please some of the people some of the time but I would hope that most people will consider us to be sensitive and considerate new owners."
Mr Johnston, who hosts the Cornbury music festival at Great Tew, ruled out having another festival at Bantham.
He said tenants of the cottages "would not notice any change at all".
He and wife Linda and their three young children have visited the area on holiday for many years.
"We are very committed to fostering an active community and you only have an active supportive community if you have people living in the houses as long-term residents," he said.
Mr Johnston beat strong competition for the estate including from the National Trust which wanted to buy part of it.
"The estuary is a really magical spot with a happy spirit and I'm looking forward to preserving that," he said.