Unfinished Jane Austen manuscript on display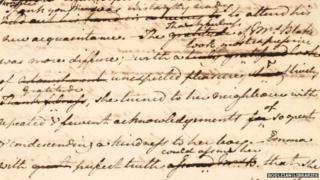 Pages of an unfinished Jane Austen novel, bought for £1m, will go on display at her Hampshire home later.
One of 11 booklets from The Watsons manuscript is going on show as part of an exhibition at Jane Austen's House Museum in Chawton.
The rare manuscript was bought in 2011 by Oxford's Bodleian Libraries.
Apart from two chapters of Persuasion, none of the six published Austen novels survives in manuscript form.
The Watsons was started then abandoned between 1804 and 1805, after the sudden death of Austen's father George.
The story centres on Emma Watson who was adopted in childhood by a rich uncle and aunt, but has to return to her birth family when her uncles dies and she is left without an inheritance.
'Famously frugal'
The manuscript includes paper patches which were applied where revisions to the text were made.
Kathryn Sutherland, a museum trustee, said: "Jane Austen's art is famously frugal. The densely filled and patched small pages of The Watsons' manuscript offer us a precious insight into that rich and mysterious frugality.
"This is a rare opportunity to glimpse Jane Austen at work and her fiction as she created it."
The exhibition at the museum - based in the house where Austen spent the last eight years of her life - runs until 16 December.