Charges over 18th Century icon theft from Chester Cathedral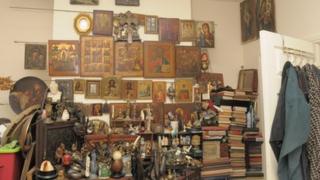 A man has been charged over the theft of an 18th Century piece of religious art from Chester Cathedral.
Police discovered the Greek Orthodox icon "The raising of Lazarus", which was stolen in August, at a property in Edleston Road, Crewe, on Wednesday.
Vasily Apilats, 59, from Edleston Road in Crewe will appear at West Cheshire Magistrates' court later.
Three men and a woman, who were arrested on Thursday have been bailed pending further enquiries.
The icon was gifted to the cathedral by the late Dean Ingram Cleasby's family.
Officers also seized other artworks at the property and said they were trying to identify where they have come from.