Phone stolen with soldier son's pictures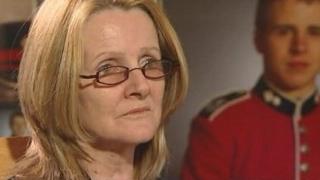 The mother of a soldier killed in Afghanistan has been robbed of a mobile phone containing hundreds of pictures of her son.
Jacqui Janes, 54, was robbed of her iPhone 5 after being knocked to the ground while walking near West Hove golf course, Hangleton, East Sussex.
The phone held 385 pictures and two videos of her son, Guardsman Jamie Janes who died in 2009.
Ms Janes, from Brighton, has appealed for the SIM card to be returned.
"They can have the phone, that doesn't matter at all," she said.
"The background of the phone is a picture of Jamie hugging me, that's all I've got of my beautiful son."
Following her 20-year-old son's death, Ms Janes made headlines when the then Prime Minister Gordon Brown spelled his name wrongly and made other errors in a handwritten letter of condolence to her. He later apologised.
Her phone was stolen on Monday when she was walking Jamie's six-year-old dog Ella on the South Downs.
Ms Janes said one of the videos was shot by one of Jamie's friends the Christmas before his death in an explosion in Helmand Province.
"It's only about 50-odd seconds long, but it has Jamie in his civilian clothes and on it he says, 'I do love you'," said Ms Janes.
She said some of the pictures had been backed-up but the video had not.
The phone was snatched from her hand by a man she believes had been sitting on a bench by the path.
Det Sgt Simon Dunn said the suspected robber ran off towards Hangleton shops.
He is described as a white, in his late 20s, of stocky build with stubble and about 5ft 8in.
He was wearing a grey hooded coat with stripes down the arms, dark trousers and smelt of alcohol.