Archbishop Justin Welby joins congregation at Bristol Cathedral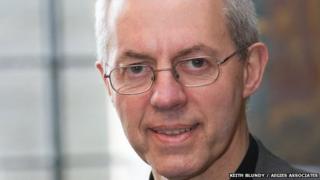 The Archbishop of Canterbury, Justin Welby, joined the congregation at Bristol Cathedral for Holy Eucharist.
The leader of the Church of England has been touring the West Country since Friday.
Speaking before the service he said he was praying for the family of David Haines who was murdered in Syria.
He told BBC Radio Bristol the actions of Islamic State militants were "the most unmitigated extraordinary evil even within terms of war".
"The murder of a totally innocent man who was there to love and serve the people.
"There is no trace of light or of anything but evil in what these people have done," he said.
The archbishop is also due to take part in a question time event at the cathedral later where he will discuss issues relating to children and young people in Bristol
On Saturday he held prayers in Swindon and baptised 20 new Christians at Malmesbury Abbey.
And on Friday the archbishop was on the streets of Bristol and spent the evening with street pastors in Kingswood.
The archbishop's tour of the Diocese of Bristol is due to end on Sunday.
The Diocese of Bristol covers the areas of Bristol, South Gloucestershire, north Wiltshire and Swindon.