Archbishop Justin Welby visits Wiltshire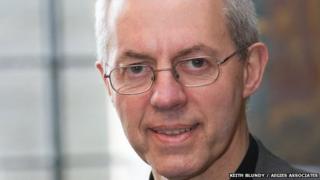 The leader of the Church of England is visiting Wiltshire as part of a tour of the West Country.
Archbishop Justin Welby, who arrived in Bristol on Friday, held prayers in Swindon and is due to baptise 20 new Christians later at Malmesbury Abbey.
He was met by the Bishop of Swindon, the Right Reverend Lee Rayfield, who said he hoped the visit would inspire more people to learn about the faith.
The Archbishop's tour of the Diocese of Bristol is due to end on Sunday.
"What Justin has done... has created a new climate and stirred up some people who might not have thought about faith before," Bishop Rayfield said.
"This is a moment for someone who can say 'the visit of the Archbishop of Canterbury to north Wiltshire stimulated me to go along and find out a bit more about what all this is all about'."
The Diocese of Bristol covers the areas of Bristol, South Gloucestershire, north Wiltshire and Swindon.