Archbishop Justin Welby visits Diocese of Bristol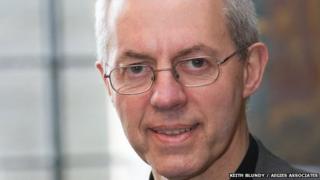 The leader of the Church of England has arrived in Bristol ahead of a tour of the West.
Archbishop Justin Welby will be spending time with schools, churches and local charities, such as Christians Against Poverty in Sea Mills.
The Rev David Izzard from St Edyth's Church, which helps run the debt counselling charity, said he was "delighted but shocked" by the visit.
The Archbishop's tour of the Diocese of Bristol is due to end on Sunday.
"It's kind of a shock really that the Archbishop wants to come to Sea Mills because we're just a small town really," the Rev Izzard added.
'Really thrilled'
"I'm delighted that he's come to a little backwater place, which has got a population of about 6,000 people."
The Diocese of Bristol covers the areas of Bristol, South Gloucestershire, North Wiltshire and Swindon.
During Archbishop Welby's tour he will visit locations including St Mary Redcliffe and Temple School, in central Bristol, and take part in a community fun day in Swindon.
He will also baptise new Christians in a baptismal pool outside Malmesbury Abbey, on Saturday.