Canadian Lancaster bomber makes delayed Bournemouth appearance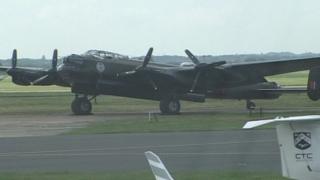 A Canadian World War Two Lancaster bomber has flown in to Bournemouth, two weeks after an air show appearance was cancelled.
The Lancaster, currently on a UK tour, suffered engine problems ahead of the Bournemouth Air Festival in August.
It arrived at Bournemouth Airport, along with the last remaining airworthy RAF Lancaster.
Pam Wickards of the Canadian Warplane Heritage Museum said the plane had been "well received everywhere we've been".
The two planes will be stationed in Bournemouth while they take part in scheduled appearances at the Duxford Air Show in Cambridgeshire and the Goodwood revival event in West Sussex.
The Canadian Avro Lancaster Mk X performed a "precautionary" engine shutdown during a flight over County Durham leading to the cancellation of its planned appearance at the Bournemouth Air Festival on 30 August.
The aircraft is based at RAF Coningsby in Lincolnshire for the duration of the visit.
There were more than 7,000 of the type of bomber produced between 1941 and 1946.