Young Poet Laureate Warsan Shire finally feels 'at home' in city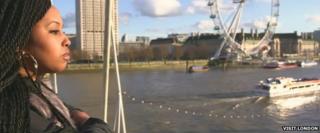 For 25 years poet Warsan Shire lived in a part of London but felt like an outsider in the city. Now 12 months after representing the capital as London's first Young Poet Laureate (YPL) she said she feels pride for the city and part of it.
On 3 October last year, National Poetry Day, Ms Shire was announced as the city's inaugural YPL by Carol Ann Duffy, Britain's Poet Laureate.
It triggered a year of residences ranging from the Houses of Parliament to beauty salons and "beautiful sheds" as well as the creation of a body of work which represented how she saw an ever-changing London, which in turn changed her.
"It started with a residency at the Houses of Parliament around women and democracy," Ms Shire said.
"It was really surreal and a world within a world - they have a barber shop and they eat jerk chicken one day every week.
"But I wanted to speak to the different staff like the kitchen staff and the cleaners to get all their stories.
"You become really immersed in those surroundings and I wrote about things and topics I wouldn't usually delve into."
Ms Shire, who has performed around the world, won Brunel University's African Poetry prize and had a poem listed as one of the 50 greatest international love poems over the past 50 years.
But despite her various high profile accolades she said one of her favourite residences was working in a Chingford school.
"When you see young people struggling to express themselves and you suddenly see the idea land and connect, that moment is amazing," she said.
Despite being born in Kenya to Somali parents, Ms Shire grew up in Wembley and Harlesden.
She said: "I've lived here my whole entire life, but I always used to have this idea that I didn't feel like I belonged, but after this year it feels so much more like home.
"I think because I could travel to so many different parts of it I really understood community and how different neighbourhoods work and now I have this pride."
---
Extract from Love Letter to London, written for Visit London
Afraid of what love may ask of us
We fill the space with noise and pets
Worship and diets
Blackouts and beauty products
Sleeping pills and dinner parties
Porn and apathy
I hold your hand as we drive through the city towards whatever is beautiful
I feel my bad memories dispel like puffs of smoke - one by one
You wear a white glove and pull my sorrow out by the ears
I look out into the river
And when I look back at you your eyes are wide, spinning plates in the dark
I thought love skipped past women who looked like me
---
While she may have found her place in the city, she says the work she has produced in London is universal.
She said: "Anything that I'm writing is really about anything I'm struggling with and what we struggle with is really universal. We think we're really isolated but even your sadness is not completely peculiar to you.
"I never feel the responsibility that I have to write about a theme or topic but it comes from what I've been inspired by."
While it may sound ideal to ruminate on ideas and write all day, being a laureate is a business. There is a job to do.
The scheme, run by Spoke and the London Legacy Development Corporation, came with a guaranteed £7,500 worth of commissions plus additional money from extra work and workshops.
Ms Shire said: "I've had presentation and media training and it's taught me small things like how to invoice properly and if you're going to freelance for the rest of the life you need to know that.
"You have deadlines to meet which was one of the the biggest things - writing to commission. You're asked to write to a brief and then you have a week to get it out and I actually learned I quite like working under pressure.
"I usually write a lot anyway but this had more of an intent behind it, I knew that someone was waiting for it."
For anyone who questions the point of a poet laureate Ms Shire has a succinct response - "It's beautiful, I mean why not?"
But she said she did have to overcome some challenges.
"I came in and got some hassle around stereotyping - this whole thing around poetry and young black people and it must be spoken word or hip hop - but over the year all of that has slowly changed. The YPL does have some weight."
Although Ms Shire's year is up her plans for the future include returning to the manuscript for her first full collection of poetry and publishing the work she created for YPL.
She is also starting to write for film and is planning to move towards fiction and short stories.
"I'm just excited about writing and where it will lead, what beautiful things will come of it and what difficult things it will help me survive."