Badger cull appeal allowed in High Court ruling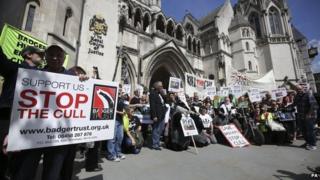 Campaigners have won the right to appeal over a ruling on the legality of the latest badger culls in Somerset and Gloucestershire, which began on Monday.
Last month the Badger Trust lost a High Court bid after arguing "controlled shooting" should only take place with independent observers overseeing it.
Lord Justice Maurice Kay said the trust had some arguable points and the appeal may have a real prospect of success.
An independent expert panel (IEP) oversaw the first year of the culls.
'No plausible grounds'
The panel reported that controlled shooting could not deliver the level of culling needed to bring about a reduction in bovine TB and was not humane.
Defra decided to continue the programme this year without an IEP in place.
This led to accusations by the Badger Trust of an unlawful breach of a "legitimate expectation" that the IEP would monitor the entire pilot cull and subsequent legal battle.
But Mr Justice Kenneth Parker ruled there were "no plausible grounds" to support the legitimate expectation claim.
During the appeal hearing, Lord Justice Maurice Kay said it was unlikely it would be possible to arrange the one-day hearing before the end of the six-week cull but that did not mean that the appeal - if successful - would be pointless.
"There will be implications arising out of that success as to the future development of the policy," he said.
'Inhumane and ineffective'
The government and farmers insist culling is necessary to tackle TB in livestock, which saw more than 26,000 cattle slaughtered in England last year and multi-million-pound losses.
But opponents say culling is inhumane and ineffective and alternatives such as vaccination should be pursued. The 2013 cull saw 921 badgers killed in Gloucestershire and 940 in Somerset.
This year, the minimum number of badgers to be culled is just under 1,000.
The maximum number of badgers that can be culled has been set at 1,091 in Gloucestershire and 785 in Somerset.