Kellingley and Thoresby Colliery closure loan 'not deliberately delayed'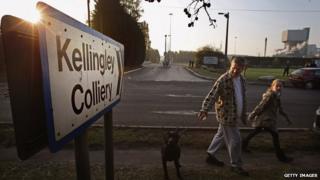 The government has denied deliberately holding up a loan to two of the last three deep-pit coal mines.
UK Coal plans to shut Kellingley, in North Yorkshire, and Thoresby in Nottinghamshire next year with the loss of 1,300 jobs.
Labour MP Ian Lavery said it had been suggested a loan to help the firm was being delayed to stop the pits being bought.
Energy minister Matthew Hancock said that was "totally inaccurate".
Last month the government confirmed it would not use state funds for the collieries and said a commercial loan should be used to delay closure.
But the plan suffered a setback when mining group Hargreaves Services withdrew support.
Speaking at the Energy and Climate Change Committee, Mr Lavery said a delay in finding the loan meant any parties interested in buying the pits would now have to invest significantly more money than previously.
"The investment will be huge compared to what it was then, absolutely huge, perhaps upwards of £100m now," he said.
"It has been suggested, and I'm sure you will clarify this, it could be a deliberate ploy to avoid anybody buying the pit."
But Mr Hancock said that was "totally inaccurate" and insisted the commercial loan was the only way to delay the closure.
He said: "If they sign off on state aid then [the European Union] also require that licences of those mines are removed at the end of that state aid period.
"I would much rather go down the commercial route rather than a route that leads to absolute and certain closure."