Cheshire East Council leader calls for unitary authority U-turn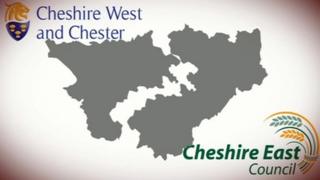 A council leader is calling for two authorities to be reunited, claiming it could reduce council tax bills in Cheshire by about £100 a year.
Michael Jones said Cheshire East Council and his neighbouring council "were made weaker" by becoming unitary authorities in 2009.
He said the government's reorganisation of the councils was a "bad decision".
Cheshire West and Chester Council leader Mike Jones said the idea was "complete nonsense".
'Didn't make sense'
He said: "It's a complete nonsense and a complete distraction from the difficult work being done."
The two councils - Cheshire East, and Cheshire West and Chester - were formed following Local Government Reorganisation in 2009, when Cheshire County Council was separated.
A number of single, or unitary, authorities were created across the country, in areas that had previously had a two-tier system with district or borough councils and a county council.
The Cheshire East Council leader claims combining the two current authorities would create a "stronger" presence.
Mr Jones said the divide weakened Cheshire in terms of its size, meaning it could not compete with larger councils such as Manchester or Liverpool.
The separation has also reduced council tax income and the number of voters across in the process, he claimed.
He said the split "didn't make much sense then and it still doesn't" but stressed the proposals were his personal view.
Mr Jones said both councils "mirror one another in terms of their people and aspirations".
"Cheshire East as a local authority is a great success and I'm sure Cheshire West would say the same about their council," Mr Jones said.
He claimed many people "were not behind" the division and said a unified Cheshire Council would "serve the needs of all Cheshire residents".
"A unified and strong Cheshire would reduce council tax liability for every household to the tune of around £100," he added.