Gloria Foster inquest: 'Neglect contributed to death'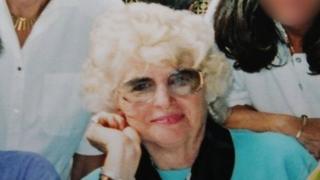 Neglect contributed to the death of an elderly woman found dying at home nine days after her care agency was shut in a police raid, a coroner has concluded.
Gloria Foster, of Banstead, Surrey, was discovered lying on her bed by a community nurse in February 2013 following the closure of CareFirst 24.
The 81-year-old was taken to hospital but died two weeks later.
Surrey coroner Richard Travers said Mrs Foster died from natural causes contributed to by neglect.
'No alternative care'
"The gross failure to provide Mrs Foster with the care she required during that period contributed to her death," he added.
He went on to say it was clear "absolutely nothing was done about providing Mrs Foster with alternative care" and that it was a "grave indictment" of the service Surrey County Council was offering.
Mrs Foster was found suffering from dehydration and starvation nine days the after her home care provider, Carefirst24 in Sutton, south London, was shut following a raid by the UK Border Agency and police.
The three-day inquest at Woking heard Surrey County Council was informed of the closure but failed to ensure alternative arrangements were in place.
'Sorry for failure'
The cause of Mrs Foster's death was pulmonary thromboembolism and deep vein thrombosis.
Following the verdict, a spokesman for the council said: "We would again like to say how sorry we are for our failure to help Gloria Foster get the support she needed.
"We should have done more and we completely accept that.
"While we have already made changes following this dreadful case, we'll continue to do all we can to prevent anything like this happening again."
A report into her death by the Surrey Safeguarding Adults Board found there was a "serious mistake" in her care.
Surrey County Council suspended two employees and said it would take action after a report showed errors were made.