Marlon King appeal to suspend 18 month jail term refused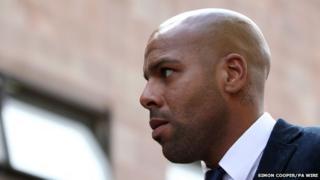 A former Premier League footballer has lost the chance to appeal against an 18 month jail term for dangerous driving.
Marlon King, 34, was jailed in May after causing a pile-up in Nottinghamshire while eating ice cream.
The former Birmingham City striker applied to the Court of Appeal to have his sentence suspended so he could spend time with his family in Zambia
But three top judges said it was an "unusually bad offence" and that it was a just sentence.
King, previously of Torksey, Lincolnshire, was jailed at Nottingham Crown Court after he caused the smash on the A46 near Newark in 2013.
---
Marlon King's career
Marlon King played for 12 different clubs including Barnet, Gillingham, Nottingham Forest, Leeds United, Watford, Wigan Athletic, Hull City, Middlesbrough, Coventry City and Birmingham City.
His footballing career ended after 167 goals in 501 games when he parted company with Sheffield United last year.
He has a number of convictions including an 18-month prison term for sexual assault, dishonesty, drinking and driving and the most recent case of dangerous driving.
---
He had been weaving his Porsche in and out of traffic while eating ice cream before undertaking a VW Polo and then slamming his brakes on.
It caused a three-car pile up and left another driver trapped in his car with serious injuries.
The Court of Appeal heard on Tuesday his wife and three children had recently moved to Zambia where they were struggling to settle in.
Representing King, Melissa Millin said his wife was suffering from depression while caring for elderly parents and running the family business.
'Deliberately dangerous driving'
Lord Justice Aikens, Mr Justice Hickinbottom and Mr Justice Lindblom considered whether to allow an appeal but said there was no justification.
Mr Justice Lindblom said: "It was an unusually bad offence of its kind with episodes of extremely aggressive driving and sudden changes of lane and speed on a busy road culminating with him stopping, blocking the path of a vehicle and causing the collisions which followed.
"It was, in truth, deliberately dangerous driving, which may have resulted in far more serious injuries or worse."