Gay canon Jeremy Pemberton to fight Church in job row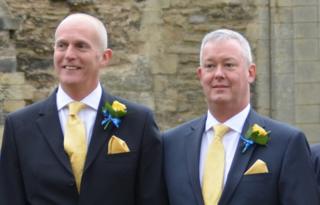 A clergyman whose promotion was blocked because he is in a same-sex marriage is taking legal action against the Church.
Canon Jeremy Pemberton was refused a licence to work as a hospital chaplain by the acting bishop of Southwell and Nottingham.
The Rt Revd Richard Inwood said the marriage was against the Church of England's teachings.
Canon Pemberton is taking both the acting bishop and the Archbishop of York to an employment tribunal.
'Deeply saddened'
Mr Pemberton became the first gay British clergyman to marry in April.
The acting bishop revoked Mr Pemberton's permission to officiate as a priest in June.
This led to the offer of a chaplaincy at King's Mill Hospital in Mansfield being withdrawn, although Mr Pemberton still works as a chaplain for an NHS trust in Lincolnshire.
The church, which does not accept gay marriage, said each diocese was responsible for its own decisions.
Mr Pemberton said he was "deeply saddened" he had to take this step against church authorities.
"I feel I have been left with little choice, having found myself being punished and discriminated against simply for exercising my right to marry."
A spokesperson for the Archbishops' Council has said it would not comment on individual decisions made by diocese.