Sonning's Playhatch Road repairs set to begin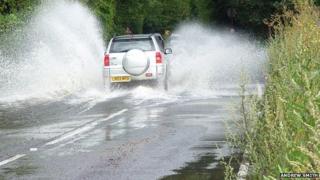 Repairs are set to begin on a flood-damaged road that links Oxfordshire and Berkshire.
The surface of the B478 Playhatch Road in Sonning cracked and its embankments eroded when river levels rose earlier this year. It was closed and then reduced to one lane for safety reasons.
Work was expected to start in October, but it will now begin on Monday following a meeting with residents.
It is due to be completed by mid-November.
Sonning Parish Council chairman Pat Doyle welcomed the news but said the gullies and waterways by the road also needed clearing to prevent flooding.
"It will be great if they fix it," he said.
"It has to be done properly, not just the road but the ditches and the gullies each side. When all the water arrives again it has got to be managed."
David Nimmo-Smith, Oxfordshire County Council's cabinet member for transport, said the repairs would not be a long-term fix but added talks were ongoing with the Environment Agency about further preventative works.