Norfolk-based rare Vauxhall E-type sells for £242,300 at auction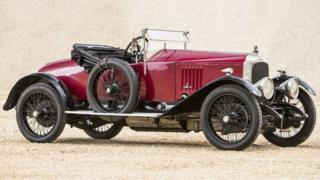 A rare car bought second hand for £115 in 1952 and kept in Norfolk for 60 years has sold for £242,300 at auction.
The Vauxhall E-type, built at Luton in 1920, was sold by Murray Ferguson, of Happisburgh, who said he rarely took it beyond the county boundary.
His brother Ian bought the car and passed it to him soon afterwards.
Auctioneers Bonhams expected the car to fetch between £150,000 and £180,000. It is one of only about 30 early models known to have survived.
It has had a chequered history since it was built.
A Bonhams spokesman said: "Although the complete history of this car is not known, it was first registered in Westmorland (now Cumbria) and it is believed in its early days it was owned by the Lings family of Bollington in Cheshire.
"In or around 1930, the car passed into the ownership of a Mr Jeffreys, remaining in regular use.
"It later served King and Country in World War Two, being requisitioned for service with the Home Guard."
In 1952, the car was bought in Manchester for £115.
The car was passed to Mr Ferguson's brother Murray who said it had had only occasional outings.