Nicholas Salvador accused of 'beheading' Palmira Silva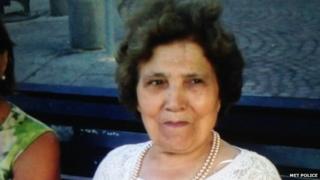 A 25-year-old man has been charged with the murder of 82-year-old grandmother Palmira Silva, who was killed in a suspected beheading in north London.
Nicholas Salvador, of Gilda Avenue, Enfield, is accused of killing Ms Silva, who was found in a garden behind a house in Nightingale Road, Edmonton, on Thursday.
Mr Salvador is also charged with assaulting a police officer.
His case is currently being heard at Highbury Corner Magistrates' Court.
Police had found Ms Silva's body after being called to the area following reports that an animal had been attacked.
Officers evacuated nearby homes before the suspect was Tasered. One officer suffered a broken wrist.
Mr Salvador was taken to hospital and kept under police guard before being questioned by officers and charged on Friday.
Neighbours have paid tribute to Ms Silva, an Italian widow who ran a cafe in Church Street, near Edmonton Green station.
Sylvia Lewis said: "She was a lovely lady, she didn't have a bad bone in her body."