Lost dog found after two-month trek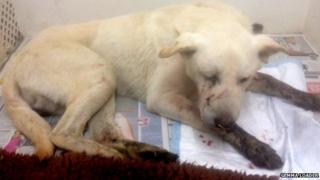 A runaway dog has been found after a two-month adventure covering up to three counties.
Frankie slipped his lead in Stanford in the Vale, Oxfordshire, in June.
His owner, James Brooks, posted pictures of his German shepherd-Labrador cross on the website, DogLost.
In July, he was seen going through a skip in Lambourn, Berkshire. A month later he was found with a fox bite in a farm-shed at Sherborne, Dorset, when he was taken to a vet by the farmer.
Vet Gemma Loader said when Frankie was brought in, he could not even lift his head.
She said: "From the day that he came in, where he couldn't stand and was very malnourished and septicaemic, to the day he went home, he was a completely different dog.
"When he came in he was obviously very dubious of people. He was petrified and very anxious and it took a lot of work by myself and my colleague [for him] to gain any trust in people again but he turned out to be a very nice dog.
"We assume he was living off people's rubbish from rubbish bins and any dead wildlife."
Ms Loader said Frankie's owner was eventually located through the website.
"We were all sad to see him go; he became part of the practice," she said.