West Midlands speeding fines down after camera switch-off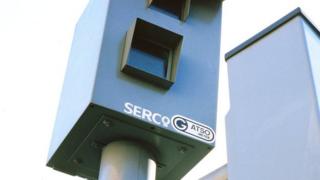 West Midlands Police has issued fewer fines since it switched off its speed cameras, despite predictions it would catch more motorists.
The force had said a move from fixed "wet film" sites to mobile digital cameras in March 2013 would increase the number of speeding tickets issued.
Figures show nearly 15,000 fewer fines were issued in the following year.
Police and Crime Commissioner (PCC) David Jamieson has backed the return of fixed cameras.
West Midlands Police switched off the last of its "Gatso" film cameras on 31 March 2013 in a bid to save £1m a year.
'Crucial for safety'
A Freedom of Information (FOI) Request revealed 72,079 tickets were issued between April 2012 and March 2013, with 46,990 coming from fixed sites.
In the next 12 months, 57,097 motorists received prosecution notices, with 36,608 caught on mobile speed cameras. Average speed cameras accounted for some 12,867 tickets.
The force, which covers Birmingham, the Black Country, Solihull and Coventry, stepped up its use of digitally-equipped vans from March last year.
At the time, West Midlands Road Safety Partnership Board, made up of local councils and other emergency services, said police believed mobile sites would be more effective.
Mr Jamieson, who was elected last month, said there was "great demand" from residents for fixed cameras to return.
He said Birmingham and Solihull's councils had been working with West Midlands Police on a pilot since March 2013 and he was speaking to other local authorities to gauge their interest.
Leader of Solihull Council, Bob Sleigh, said: "The procurement phase of the project will take place in the coming months and once this has been agreed, decisions will be made about the final number and mix of digital cameras to be installed."
Dave Nichols, of road safety charity Brake, said there was "overwhelming evidence" speed cameras were crucial in keeping roads safe.
"[Fixed cameras] catch far higher numbers of speeding drivers than traffic police with mobile cameras, and at much lower cost, freeing up police for other important duties," he said.
Professor Stephen Glaister, director of the RAC Foundation, said determining the effectiveness of speed cameras was not simple but the organisation's analysis showed "they do save many lives".
A Freedom of Information officer for West Midlands Police said its figures were taken from "various data sources".