Scottish independence: Trip captures border communities' mood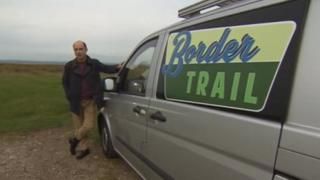 BBC Look North Political Correspondent Mark Denten is spending the week in a van travelling the length of the border between England and Scotland.
His aim is to get a flavour of life and people's thoughts as the Scottish independence vote gets closer.
The Scottish independence referendum takes place on 18 September when voters will answer the question: "Should Scotland be an independent country?"
Each day he will visit a different community near the border - Bowness, Longtown, Kielder, Coldstream and Berwick.
He will be talking to people to get their views on a whole range of different issues.
Friday 12 September - Berwick
On the final day of the trip, I've arrived in Berwick.
The Berwick Bowling Club currently plays in the Scottish League.
However, members fear that in the event of independence, they would no longer be eligible, and would have to move to the English one.
Thursday 11 September - Coldstream
Today, I'm north of the border in Coldstream to gauge opinion.
Floating voters Jean and Joseph Somerville are originally from County Durham but now live in the Scottish town and will be voting next week.
The pair say that if tax and pension conditions would stay as they are then they might vote Yes.
Wednesday 10 September - Kielder
Wednesday's stop-off is about 10 miles from the border.
Forestry workers here cross into Scotland and back regularly, but Stu Liddle does not believe there will be any impact on his firm if the "Yes" campaign comes out on top.
He said: "I'm very relaxed about the whole thing. It isn't going to affect my business at all."
Tuesday 9 September - Longtown
We're at Longtown Auction Mart, in Cumbria. It's auction day and 7,000 lambs are expected to be sold. Buyers come from all around the country and particularly from northern England and Scotland.
Mart chief executive Trevor Hebdon said farmers on both sides of the border had questions about what a yes vote for independence might mean for them.
He said they included the possibilities of dealing with a different currency and animal movement restrictions.
Monday 8 September - Bowness on Solway
The trail starts on the far west of Cumbria with Scotland - Dumfries and Galloway - just across the Solway. This area is an absolute haven for wildlife - 120,000 birds are here at any one time - and the RSPB has a base here.
Norman Holton from the charity said his concern would be if there were any changes in the rules and regulations affecting wildlife legislation.
He said: "We don't really see the border at all. The birds don't respect any borders, they come here because it's a huge estuary full of food."