Racist letter bomb plot prisoners sentenced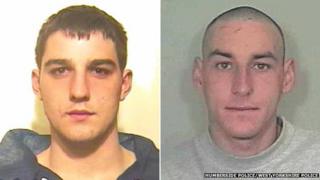 Two serving prisoners who attempted to post crude explosive devices and racist letters to solicitors have had their jail terms extended.
Bret Atkins, 24, and Jamie Snow, 27, were caught after a letter containing an incendiary device was intercepted by officers at HMP Full Sutton, near York.
Atkins, from Hull, was sentenced to an additional seven years and Snow, from Leeds, six years and three months.
Both men were sentenced at Leeds Crown Court.
'Campaign of hate'
Atkins was found guilty at the same court of conspiracy to send an explosive substance with intent in July.
Snow had previously pleaded guilty to the same offence and also admitted two counts of making threats to kill.
Det Ch Supt Ian Wilson, of the North East Counter Terrorism Unit said: "Bret Atkins and Jamie Snow waged a campaign of hate against innocent people, choosing victims purely on the grounds of their race or religion.
"They expressed deeply racist and anti-Muslim views and sent a series of threatening letters, designed to instil fear in their recipients.
"Snow and Atkins took their hatred beyond threats to kill and even tried to post explosive materials in an attempt to cause harm or injury.
"Thankfully this mail was intercepted by vigilant officers within the Prison Service and was never able to enter the postal system."
Atkins was jailed for 21 years for murder in 2009. Snow, from Leeds, was jailed for 11 years for armed robbery, also in 2009.
Atkins' additional sentence will being 18 months before the end of his initial jail term.