Explorer Levison Wood completes River Nile walk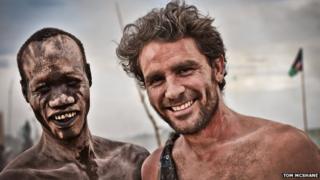 A British explorer has returned to the UK after completing a 3,750-mile walk along the River Nile.
Levison Wood set out in December to become the first man to walk the entire length of the Nile, but fighting in South Sudan forced him to abandon a 450-mile section.
He said he hoped to walk the remaining stretch of the river once the area is safe.
He described it as the "biggest adventure" of his life.
"There were so many highlights - encountering chimpanzees in the wild, visiting Murchison Falls park in Uganda and pyramids at Meroe in Sudan," he said.
Originally from Forsbrook in Staffordshire but now living in London, the 31-year-old is a former captain in the Parachute Regiment.
The Nile walk took him through six countries, across deserts, jungles, savannahs, mountains and war zones, with temperatures sometimes reaching more than 50C.
Mr Wood said being forced to abandon a section of the trek was disappointing but unavoidable.
"I've been to South Sudan four times before and I thought it was doable, but the civil war broke out about two weeks after I started the walk and then it got worse by the time I got there," he said.
"I walked halfway across the country and then got caught up in a fairly sizable battle in a town called Bor.
"Along the way I'd had some pretty close calls with snakes and scorpions and was previously attacked by bandits, but it's different when there's a guy high as a kite running at you with an AK47.
"Later I was holed up... with tracer fire going overhead. About 60 people were killed in the battle.
"I saw dead bodies in the streets and mass graves, not to mention refugees fleeing.
"It would have been reckless to carry on. It was not just my life, but also my local guide.
"It does mean I can't claim to be the first person to walk the Nile, but it was not just about breaking records, it was about undertaking a major expedition, exploring Africa in the 21st Century and I met some wonderful people."
Mr Wood rejoined the Nile at the Sudan border and managed to complete his journey, being met at the finish line in Egypt by his parents.
His journey is due to be turned into a documentary, to be broadcast on Channel Four and Animal Planet in the US in early 2015 and he plans to write a book about his experiences.