Labour reprimand councillor over Eva Braun remark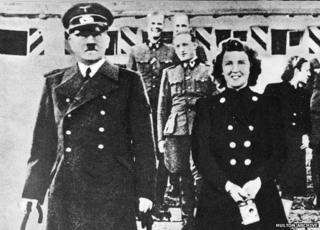 Political debate in a council chamber or in the House of Commons often gets out of hand. Tempers get frayed and the language can turn raw.
That's because there are genuine differences in the world view of individual politicians and political parties.
But whatever is said in public, the printed word still retains a greater power. A careless word or a casual expression in an email or on social media can have consequences.
This is certainly true in the case of Andy Cooper, a Labour councillor from Broxtowe in Nottinghamshire.
In an email, he compared a German-born opposition councillor on their town council to Hitler's mistress Eva Braun.
The email leaked and it caused a political storm. Anna Soubry, a government minister and local MP, got involved and called on councillor Cooper to resign.
Kat Boettge, who was subject of the email, is originally from Munich and came to Nottingham several years ago. She was the Green Party's lead candidate in this summer's European Parliament elections in the East Midlands.
But it was the parochial political backbiting of Kimberley Town Council and the later e-mail that upset and angered her.
"The remarks were thoughtless, and deliberately offensive and racist. That's just unacceptable in British politics," she told me.
She was one of 10 councillors who had earlier resigned; they claimed there was a lack of financial scrutiny on the Labour-controlled town council.
As for councillor Cooper, he has since apologised for the Eva Braun remark.
"It was a stupid thing to say," he told me.
"If I had referred to her as Angela Merkel, it couldn't have caused nearly as much fuss."
The local Labour Party leadership reprimanded councillor Cooper and told him to issue a public apology.
In a letter to her, he said: "I recognise that whatever our political disagreements, such personal politics does nothing to enhance local democracy or improve life for the people of Kimberley. "
The Labour Party is sending councillor Cooper on a diversity course. It's also warned him about his future behaviour.
Kat Boettge has accepted his apology. She now wants him to face the electorate in a by-election, so voters can give their verdict.
Anna Soubry also wants him to stand down.
"His description of Kat Boettge was highly offensive," said the Broxtowe MP.
"Using racist language is never acceptable, especially from an elected representative."
Local politics can be quite tribal, and Kimberley is at the heart of a suburban parliamentary seat that's one of the most marginal in Britain.
The political temperature in Broxtowe can get very hot indeed.
Perhaps politicians need reminding of Alastair Campbell's timely advice: Don't write anything in an email or online that you wouldn't want to read in the Sunday newspapers.
He's right: Careless talk... and emails... can cost votes.