Hastings Ashford rail improvements 'should be sooner'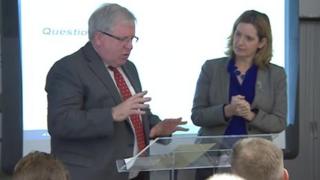 An MP has called for railway improvements on the Ashford-Hastings line to be brought forward by two years.
Network Rail and the government have already pledged to improve the line between Hastings and Ashford by 2019.
Amber Rudd, Conservative Hastings and Rye MP, wants the the line electrified sooner for high-speed trains.
Network Rail said it had resourcing limitations. The MP said this meant the company needed more skilled staff.
"There's so much electrification going on, there just aren't enough [people] that are trained," she said.
She said rail campaigners were urging Network Rail to look further than the UK for skilled workers.
'Significant limitations'
In a statement, Network Rail said Transport Secretary Patrick McLoughlin had made a commitment to extending the existing high-speed services from Ashford, Kent, to Hastings, East Sussex.
It said the high-speed line would not be extended, but electrifying the line would allow high-speed trains to use the track, speeding up journeys.
A study into the business case had been positive, but the company said it still had to do a feasibility study.
"We would love to see this scheme accelerated. However, there remain significant resourcing limitations for both the electrical and signalling side of the project - particularly with the large amount of work already scheduled for the next four years," it said.